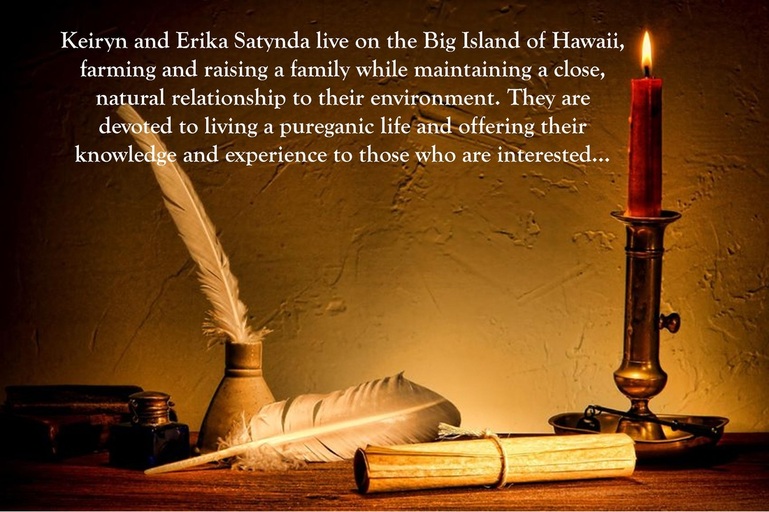 Keiryn and Erika Satynda live on the Big Island of Hawaii, farming and raising a family while maintaining a close, natural relationship to their environment. They are devoted to living a pureganic life and offering their knowledge and experience to those who are interested.
Life for the Satyndas is centered on food, family, and agriculture. They find joy in the practice of growing and cooking their own food. Bamboo, cacao, culinary and medicinal mushrooms and taro are just part of their agricultural focus. They have a keen interest in nutrition, and are always striving to learn more about food and health, while sharing a deep love of cooking and the culinary arts.
Keiryn Satynda has spent many years catering, and Erika likes to refer to him as the best cook in the world. His extensive background in catering led him to study the alchemy of food and the spiritual and medicinal aspects of the culinary arts in Mexico for several years before coming to Hawaii.
Erika Satynda is a 1999 graduate of the Chef's Training Program at The Natural Gourmet Institute for Health & Culinary Arts in New York City. Her culinary training has inspired her to help promote the connection between food, sustenance, and nurturance.
In addition to farming, their entrepreneurial endeavors include the production of over 40 purely organic health and wellness products. They have established more than 14 websites introducing their products, and are passionately dedicated to health education, sharing their knowledge of overall wellness, and their specific interests in bamboo, cacao, mushrooms, skin care, and more.
Keiryn and Erika grow over 80 different species of bamboo, and are responsible for pioneering the introduction of bamboo as a superfood to the world! They have developed bamboo superfood powder, and have created a uniquely delicious bamboo chai, called Island Roots Café. They have also incorporated bamboo into a unique line of 100% organic skin care products, known as SurfSilk.
Keiryn and Erika grow mushrooms including Shiitake, Oyster, Reishi, and Lion's Mane Mushrooms, all of which are organically forest farmed.
The Satyndas share a deep love of chocolate and cacao. They have delved into all aspects of growing cacao and of making chocolate, from bean to bar. God Pods Cacao specializes in providing all things cacao, from plants to beans, truffles, hot chocolate and more! You can even learn step by step how to make chocolate yourself, as well as a great deal of information pertaining to health at this website created by the Satyndas:
http://www.tradewindsnursery.com
Keiryn and Erika have very much enjoyed authoring The Pureganic Companion, and look forward to the creation of many other books in the near future.