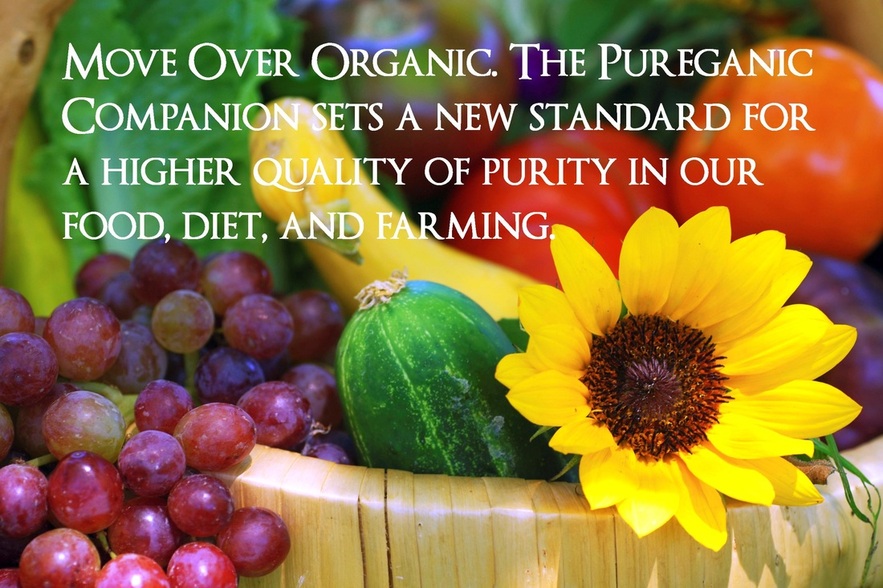 In this day and age, finding ourselves drawn toward walking a healthier path occurs for many reasons. For some, it arises from a place of wanting to elevate one's level of spiritual attunement, mood, mental focus and clarity, or physical performance capacity. For others, the need for healing from disease or imbalance may prompt a desire to learn a new diet or lifestyle practice to attain better health. Learning to control our health is just one thing we can control ourselves, in a world which is seemingly out of control in many other destructive ways. Transforming what we input into our bodies and minds, allows us to empower ourselves in making choices which can result in cultivating a healthy, happy, and satisfying life. The Pureganic Companion has been created in an effort to bring truthful and helpful education for those seeking a path to optimal health. It can be a challenge to find truthful information currently in the world that is presented for your benefit, and not to aid in the profit of other interests. Not only will you find truth here, but it is being presented to you with a benevolent intention. With the gift of health in our lives, we can all collectively benefit from our individual skills and creativity being expressed, and consequently dwell in a more harmonious universe.
So you have realized that you need or want to improve your health, and maybe have discovered that superfoods do exist that can assist you in your personal healing needs, but then what? How do you take them in, and how do you actually prepare superfoods to become a delicious supplement to your diet, and even more, something that you will actually eat regularly? The Pureganic Companion is a guide to help you learn about health, why it is so important, how your body functions in a healthy state, how to avoid certain health catastrophes, and how to take that knowledge and learn to use it through creating natural health remedies and delicious food in your own kitchen! These tools are valuable levers for tuning your body and health. Choosing to live in a healthy state of being is a superb way to prevent disease and illness from manifesting in our lives...

Acid & Alkaline
Principles of Health


Maintaining a healthy balance between acid-forming foods and alkaline-forming foods is one of the most important and accessible things one can do to improve overall health in the body. One known fact is that disease, especially cancer, cannot live in an alkaline environment. Many factors in our lives contribute to an overly acidic body, from a toxicity overload, to a diet high in processed foods, sugar, alcohol, coffee, soda, and the like, as well as constant stress levels and feelings of worry or fear, which produce an acidic state in the body... The body will try to compensate for an overly acidic state by using alkaline minerals in the body; if there is a deficiency of minerals in the body, the result will be a buildup of acids in the cells, causing many health problems. To enhance overall health and wellness, and maintain vitality and a good quality of life, it is important to eat a diet rich in an array of nutrients as well as alkalizing foods...

Optimal Digestive Health & Superfoods...

Superfoods provide vitamins and nutrients that influence every system in the body including the digestive tract. A person who lives a healthy lifestyle and eats a good diet will have a well functioning digestive system that works synergistically with the other organs in the body. Eating the right type of foods not only provides energy for the body, but provides digestive support as well. Foods that are high in fiber such as fresh fruits and vegetables help to keep the digestive tract clean and free from the buildup of fats and undigested foods.

Why Good Digestion is Important

Proper digestion adds vitamins and minerals to the body that are necessary for the tissues to function correctly. A digestive tract that is functioning properly breaks down foods efficiently and completely, allowing the body to absorb the nutrients it needs while letting waste flow through to the large intestine and rectum to be eliminated. Good digestion is important for the rest of the body to remain in balance. Proper digestion keeps other processes regulated, such as blood sugar and cholesterol levels. Regular bowel movements prevent toxins and wastes from building up in the body causing illness and disease...


A Sample Recipe by Keiryn & Erika Satynda...